Successful businesses depend on great salespeople. But how do you know if a potential hire is going to be successful in the role? One of the best ways to determine this is by leveraging a sales assessment such as the SPQ, or Sales Preference Questionnaire TM. This sales assessment tool can give employers insight into how a candidate might perform in a sales role.
What is the SPQ, or Sales Preference Questionnaire TM?
The SPQ is a sales assessment tool that helps employers measure the sales reluctance of potential hires. It's based on scientific research into human behavior and decision-making, and it can help businesses evaluate whether a candidate has the skills necessary to be successful as a salesperson. The questionnaire consists of questions about decision-making preferences, sales behaviors, and sales processes.
What does the SPQ tell you?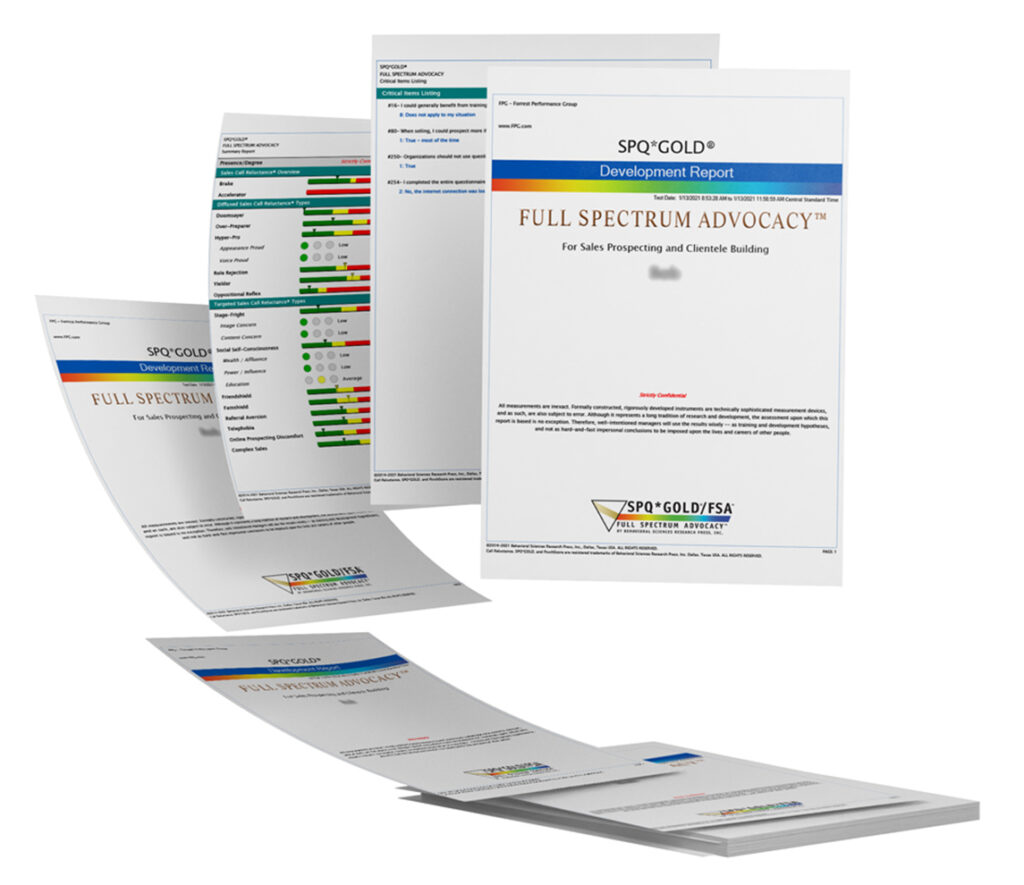 Source: Behavioral Sciences Research Press (BSRP)
Unmasking Sales Productivity using the Sales Preference Questionnaire ™
It measures all known symptoms of the sales producer's reluctance towards making sales calls. This powerful questionnaire not only identifies imposters impacting sales activity but also helps unveil unknown barriers hindering your sales team's performance.
Unlock Sales Potential using the Sales Preference Questionnaire ™
It uncovers untapped talent within your salespeople, empowering them to thrive and driving your company's success to new heights.
Find The Right Candidates using the Sales Preference Questionnaire ™
When employers use the SPQ, or Sales Preference Questionnaire TM to evaluate a potential hire's suitability for the job, they can gain insight into how the candidate might approach decisions and interact with customers in a sales setting. The SPQ can also provide insight into the candidate's sales processes, so employers can assess whether they have the right attitude and motivation to succeed in a sales role.
The SPQ is an invaluable sales assessment tool for assessing potential hires. By leveraging this questionnaire, employers can gain insight into how a candidate might perform in a sales role. This information can be used to make more informed hiring decisions and ensure that the best candidates are selected for the job. With the SPQ, businesses can take their sales teams to the next level and maximize their success in the market.
The Game-Changing Approach of Outside Recruiting
It's no secret in the world of human resources that hiring truly talented and successful professional salespeople is one of the most challenging tasks you'll ever face. So, a candidate can look perfect on paper and present themselves incredibly well, but when put into real-world sales situations, they'll fold faster than Superman on laundry day!
It might be funny if it weren't so true—hiring top salespeople is incredibly difficult. And it's not just the frustration of failed hires. It's the time, the money, and the wasted effort you expend beforehand. It's as exasperating a proposition as it is costly.
The good news? It doesn't have to be this way. There is a readily available solution that turns sales hiring pressure into sales hiring success. And it begins when you take the time to learn about the value of outside recruiting and Forrest Performance Group.
Consider Hiring the Best Salespeople with FPG
At FPG, we are sales experts with a proven track record in recruiting and training top salespeople. Our recruiting approach is a game-changer, as we thoroughly understand your needs, tailor job descriptions, and use a multi-step process with rigorous sales assessments to find the perfect match. With assessment-based hires and a flat fee structure, we ensure less turnover and a faster hiring cycle. Our scientific approach, including the Sales Preference Questionnaire ™ (SPQ), drives data-driven decisions.
Trust FPG to deliver elite salespeople who possess the right mindset and behaviors for your success. Reach out to us at FPG Recruiting to supercharge your sales team and conquer any sales challenge together! Sales success awaits!
Don't Just Hire. Hire for Success!
In FPG, we use a scientific process to assess your candidates and identify those with the specific traits that signal a top producer. We call it brain wiring, you'll call it genius. Take a look at our Sales Recruiting Process. We have years of experience helping businesses just like yours find the best possible candidates for their open positions.