Need More Sales? We Can Help You Train, Lead, and Hire Your Salespeople!
Unleash Your Sales Performance With Our Lead Generation, Sales Recruiting, Training, And Fractional Sales Leadership For Top B2B And B2C Sales Professionals And Sales Leadership.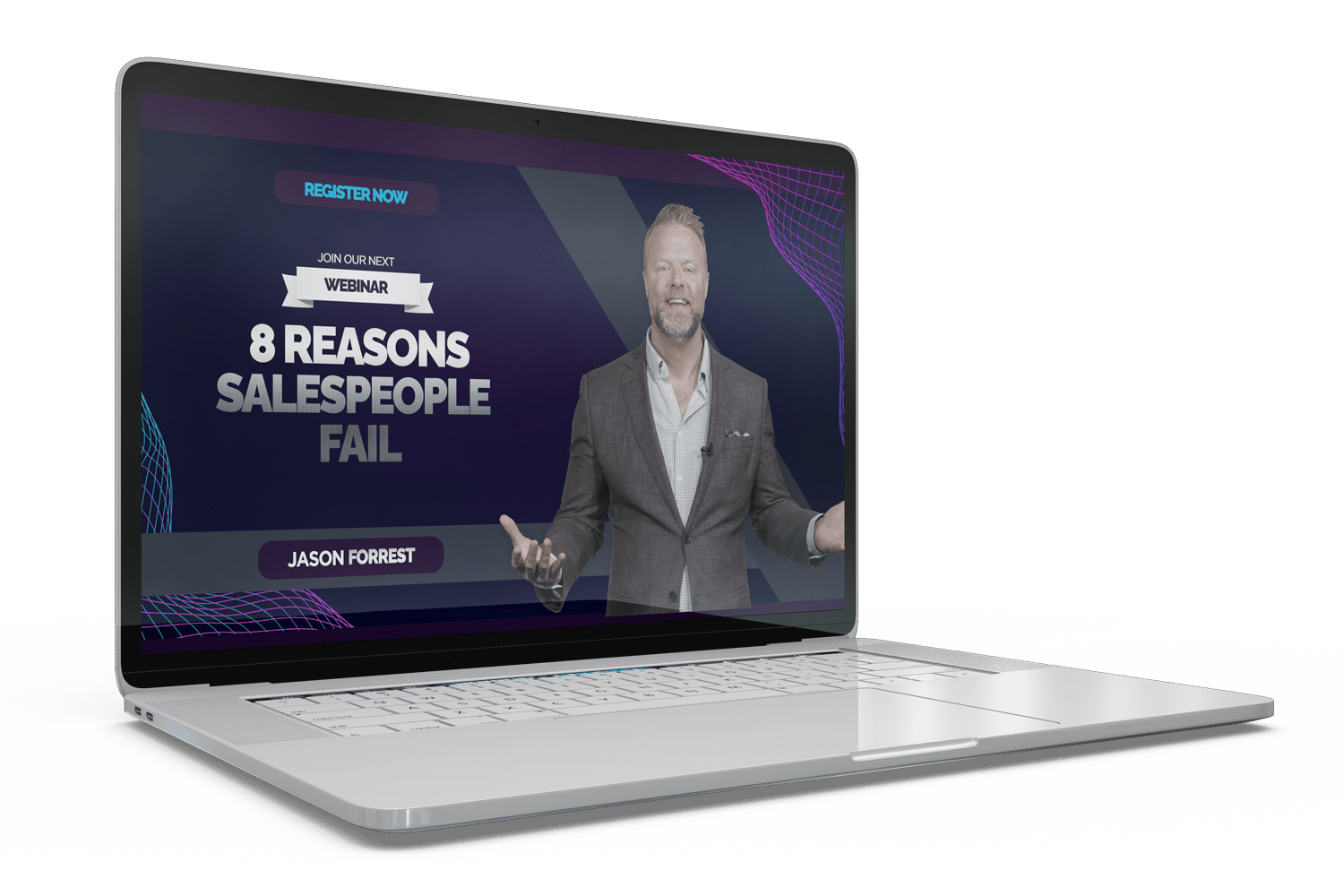 Watch Now: 8 Reasons Salespeople Fail with Jason Forrest
Sales Recruiting & Headhunting
1. You're struggling to find the right talent, which is causing leadership to focus on recruiting and not coaching your existing sales team to meet your sales goals,
2. You're having trouble attracting sales professionals, which is causing you to lower your forecast,
3. You're hiring the wrong salespeople, which is wasting your precious marketing leads, creating morale problems, and costing real dollars in salary and training with zero return.
Sales & Management Training
1. There is a performance gap between your top and average producers that, if reduced, would create substantial new revenue,
2. Your sales team is struggling with price objections that are causing you to lower your forecast,
3. You're losing sales because your newest salespeople don't have the right processes and language to win sales against the competition.
Fractional Sales Leadership
1. You have less than 9 salespeople on your team,
2. You can't justify the expense of a head of sales position,
3. You, as the owner, don't have the time and/or expertise to coach the sales team.
Forrest Performance Group Receives 2022 Hire Vets Medallion Award from The U.S. Department of Labor
This award recognizes employers who successfully recruit, hire, and retain veterans.
At FPG, we know that you want a sales experience that is equal to your great product and service.
In order to have that sales experience, you need the very best salespeople and sales leadership. The problem is sales recruiting and training (and even sales leadership if you're a small business) is not your expertise or even the best use of your time or resources. We understand how crucial a great sales team is to drive profitable sales for your company. This is why we created the world's best sales recruiting, sales training, and fractional sales leadership company, so you can focus on creating products and services that improve people's lives.
Here's how we do it:
1. Tell Us About If You're Interested In Our Sales Recruiting, Training, or Fractional Sales Leadership Services,
2. Tell Us About Your Sales Forecast and Your Top Sales Challenges,
3. We Share With You "The Way We Work" and You Decide If We Are The Best Solution to Achieve Your Sales Targets.
So, Book a Meeting Now to speak to us. So you can stop feeling the frustration or even disappointment of having to lower your sales forecast or your prices, and instead start taking the market share that you deserve. 
to speak to one of our Sales Warriors.  If you are impressed with our Sales Experience, then that's perfect because they have been recruited and trained by us!