In today's fast-paced business world, the demand for effective leadership skills has never been higher, especially in the context of transformational leadership. As technological advancements, particularly in artificial intelligence, continue to reshape industries, leaders must equip themselves with key skills to navigate these changes successfully.
In this comprehensive blog post, we will delve into the three crucial leadership skills leaders need: Adaptability, Effective Communication, and Strategic Thinking.
Leadership Skills in Adapting to Change
Adaptability stands out as a cornerstone of leadership skills in the face of rapid change. The ability to adapt requires honing various leadership skills, such as seeking feedback, encouraging teamwork, and continuous learning. Leaders who prioritize these qualities foster a culture of continuous improvement, a key aspect of effective leadership.
Master Leadership in a Changing World. Elevate Your Leadership Game With Our FREE Guide! Download a Free Guide here.
Seeking Feedback: A Vital Element of Leadership Skills
In the realm of leadership skills, actively seeking feedback is indispensable. Leaders must consistently seek input from their teams to identify areas for improvement. This commitment to feedback not only enhances individual leadership skills but also creates a culture of open communication and continuous improvement within the team.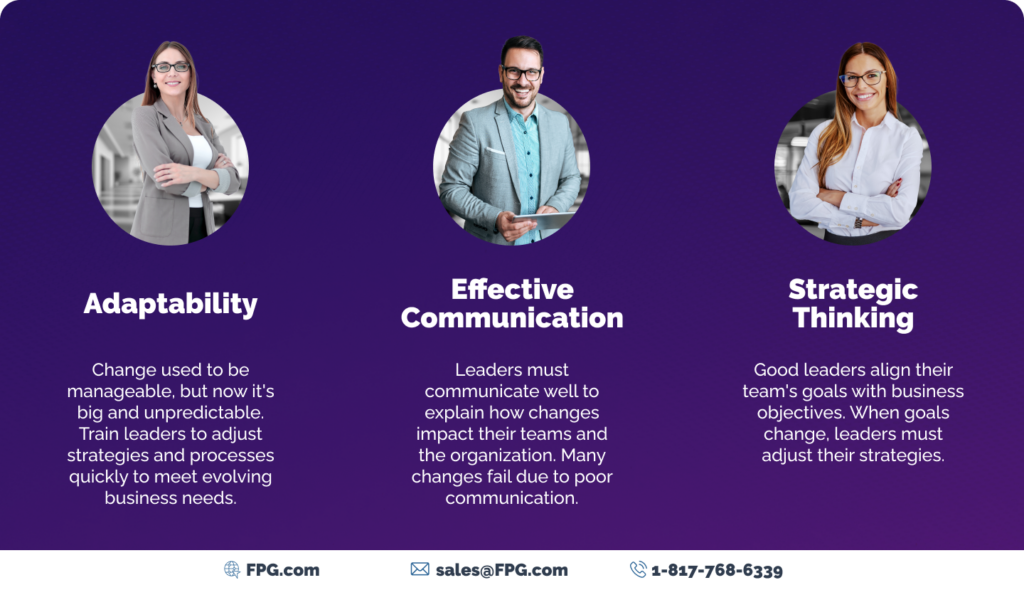 Encouraging Teamwork: A Leadership Skill for Innovation
Another leadership skill crucial for adaptability is the ability to encourage teamwork. When leaders foster an environment where diverse minds collaborate, new ideas and innovative solutions emerge. This leadership skill not only promotes adaptability but also creates a cohesive team capable of navigating change collectively.
Continuous Learning: A Leadership Skill for the Modern Era
Continuous learning is a fundamental leadership skill in today's dynamic business environment. Leaders must not only prioritize their personal development but also encourage their teams to engage in ongoing learning. This commitment to continuous learning ensures that leaders and their teams are well-equipped to navigate the challenges of change, showcasing the importance of this leadership skill.
Effective Communication: A Pillar of Transformational Leadership
In the face of change, effective communication becomes the linchpin that holds a team together—a crucial aspect of transformational leadership. Poor communication is a common pitfall that can undermine even the most well-intentioned changes. Leaders must leverage their communication skills to articulate how changes will impact their teams and the organization as a whole.
Conversations: A Transformational Leadership Skill
Effective communication involves mastering the skill of having conversations. Leaders should actively engage in dialogue to understand their team's feelings about upcoming changes. This transformational leadership skill not only builds trust but also demonstrates a commitment to open communication, fostering a positive atmosphere during times of change.
Check-Ins: A Quality of a Good Leader
Regular check-ins are not just a management task but a quality of a good leader. They are essential for addressing problems promptly and offering support. Leaders who consistently engage in check-ins demonstrate a genuine concern for their team members, embodying the qualities of a good leader, particularly in times of change.
Active Listening: A Leadership Skill for Open Communication
Active listening is an often overlooked but essential leadership skill. Leaders should prioritize listening over speaking to demonstrate attentiveness to the needs and perspectives of their team. This quality of a good leader fosters open conversation, creating a positive and communicative atmosphere during periods of change.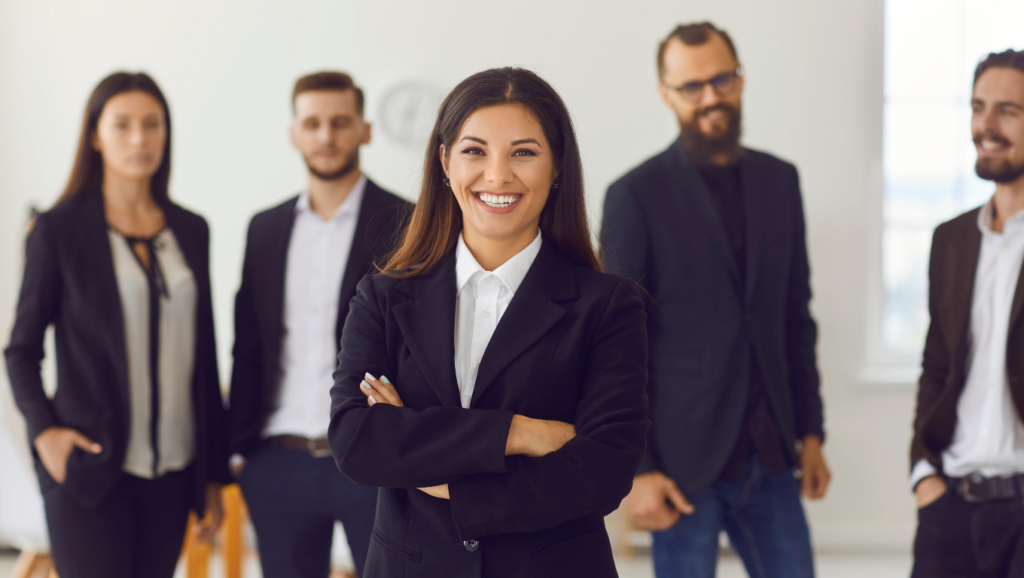 Strategic Thinking: Aligning Goals with Transformational Leadership
Good leaders align their team's goals with the overarching objectives of the business—a key aspect of transformational leadership. When goals change, leaders must exhibit strategic thinking to adjust their strategies and anticipate future challenges.
Understanding Implications: A Transformational Leadership Imperative
Strategic thinking involves understanding how change might affect everyone. Leaders should seek diverse perspectives within their teams, a transformational leadership imperative that enriches decision-making. This not only aligns the team with the broader organizational vision but also promotes a collaborative approach to navigating change.
Asking Strategic Questions: A Leadership Skill for Innovation
Transformational leaders possess the skill of asking strategic questions. Leaders should constantly challenge the status quo, exploring new possibilities and solutions. This leadership skill not only prepares the team for future challenges but also fosters a culture of innovation, showcasing the forward-thinking nature of transformational leadership.
Embracing Failure: A Quality of a Good Leader
In the realm of strategic thinking, failures are not setbacks but opportunities to learn and grow. Leaders should embrace failure as an inherent part of the change process, using it as a catalyst for improvement. This quality of a good leader sets the tone for resilience in the face of challenges, promoting a growth mindset within the team.
Conclusion
In the dynamic landscape of today's business world, change is the only constant. Leaders who equip themselves with essential leadership skills, such as adaptability, effective communication, and strategic thinking, are better positioned to guide their teams through challenges toward success. By fostering a culture of continuous improvement, open communication, and forward-thinking, leaders can not only navigate change but also thrive in the ever-evolving business environment.
As you embark on the journey of mastering change and enhancing your leadership skills, consider connecting with FPG to explore how leadership coaching can empower your sales team to achieve your company's revenue goals in the face of change. Through continuous learning and strategic leadership, you can lead your team to success in the ever-changing landscape of the modern business world.
Source: Critical Leadership Skills for Navigating Change and How to Develop Them | The Center of Leadership Studies,
Ready to take your sales to the next level?
Ready to elevate your leadership skills to new heights? If you're committed to leading your team to success, then our focused leadership training is the answer. Enhance your team's adaptability, communication skills, and strategic thinking with our expert guidance, and take your business success to the next level. Connect with us today. Together, we can revolutionize the way you lead!
Need More Sales? We Can Help You Hire, Train, And Lead Your Salespeople!
Stop feeling the frustration or even disappointment of having to lower your sales forecast or your prices, and instead, start taking the market share that you deserve. Unleash your sales performance with our lead generation, sales recruiting, training, and fractional sales leadership for Homebuilding, B2B, and B2C salespeople and sales leadership. Book a Meeting today!