Headhunt a Top Salesperson Fast
Who Sells for You Even Faster!
Sales Recruiting | Sellers & Leadership
Headhunt A Top Salesperson Fast Who Sells For You Even Faster!
We use the world's premier workplace behavioral assessment to find the most dynamic, culture-fitting, goal-oriented, motivated and unleashed sales candidate for you.
Our sales recruiting services save you time and dramatically increase your ability to hire top-quality candidates through assessment-based hiring that cuts out bias.
to speak to one of our Sales Warriors.  If you are impressed with our Sales Experience, then that's perfect because they have been recruited and trained by us!
Do you want to hire someone fast?
or do you want to hire a salesperson who produces fast?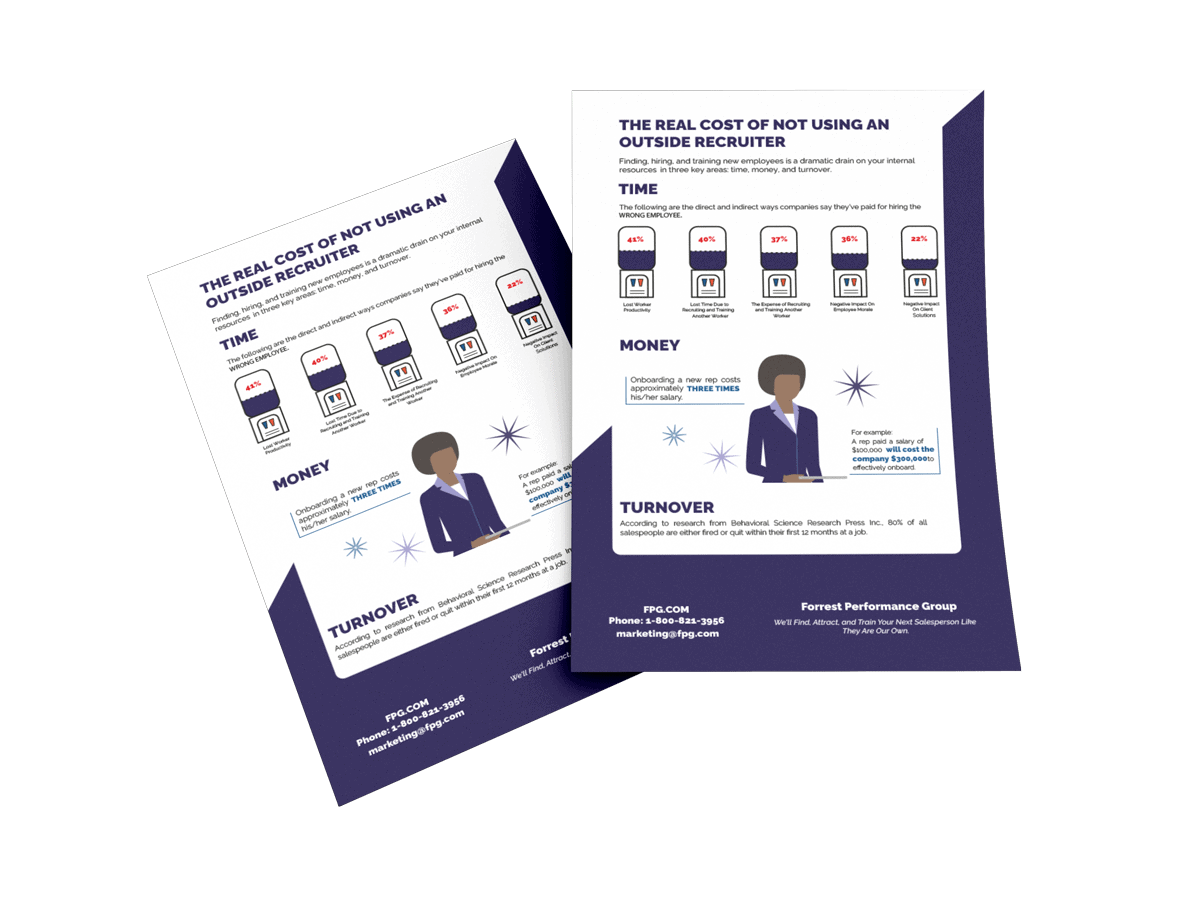 What Is The True Cost Of Not Using An Outside Recruiter?
Get your FREE guide here to learn the real cost of hiring the wrong person.
The Three Main Reasons People Like You Choose Our Recruiting Services are:
You're struggling to find the right talent, which is causing leadership to focus on recruiting and not coaching your existing sales team to meet your sales goals,
You're having trouble attracting sales professionals, which is causing you to lower your forecast, or
You're hiring the wrong salespeople which is wasting your precious marketing leads, creating morale problems, and costing real dollars in salary and training with zero return.
| Advantage | Other Recruiters | FPG Sales Recruiting |
| --- | --- | --- |
| Connecting You with Candidates to Interview | | |
| Saving You Time | | |
| A Performance Guarantee | | |
| Recruiting Company Focused Only on Sales | X | |
| 15 Years Training Salespeople | X | |
| Cold Calling Top Candidates | X | |
| Psychological and Behavioral Interview Questions | X | |
| A Behavioral Sales Assessment to Lower Your Risk | X | |
| 90-Day Sales Training that's #1 in the US | X | |
| One-on-One Coaching with Your New Recruit for 13 Weeks | X | |
| A Flat Fee | X | |
We Help Companies Recruit Fearless Sales Pros, Train Them For 90 Days, And Guarantee Their Success.
Let Our Recruiting Experts Help You Find Qualified Sales Representatives.
We scientifically interview candidates looking for the specific brain-wiring of top producers.
The Proven Benefits Of Choosing FPG's Sales Recruiting
Stop Looking at Traditional Sales Recruiting
More value, better quality, and more sales than any other hiring solution.
When You Let Take on The Hiring Burden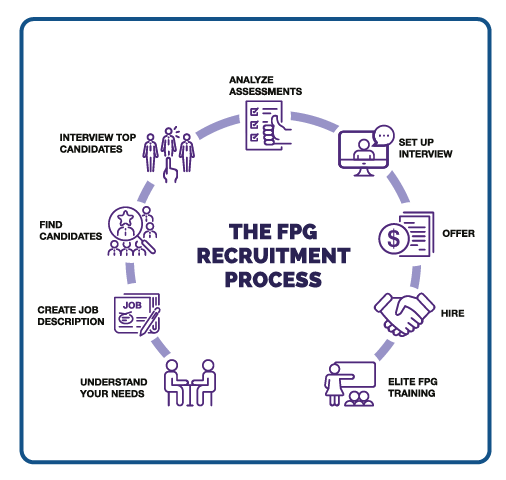 The average time to fill a sales job across industries is 52 days. FPG's average fill time?

World-class sales hiring tool called Sales Preference Questionnaire™ (SPQ).
The SPQ allows us to objectively assess the beliefs and abilities of each candidate by answering questions in several key, profit-driving areas:
Do they actively slow down their own sales, or do they look for ways to move sales forward?
Do they have a tendency to let the prospect take the lead, or do they lead the conversation themselves?
Do they tend to resist coaching or embrace it?
Do they fear talking about money and numbers, or are they fearless?
Are they hesitant to prospect, or are they proactive about prospecting?
Do they shy away from goals, or do they clearly articulate, embrace, and reach for defined goals?
Using the SPQ as a hiring tool decreases sales turnover
Don't just hire based on a paper standard. Hire based on your own top producers.
We use the SPQ to assess your current top sales producers.
We use the SPQ to assess each hiring candidate.
We use our proprietary formula to match up your candidate assessments with the beliefs and abilities of your top sales producers.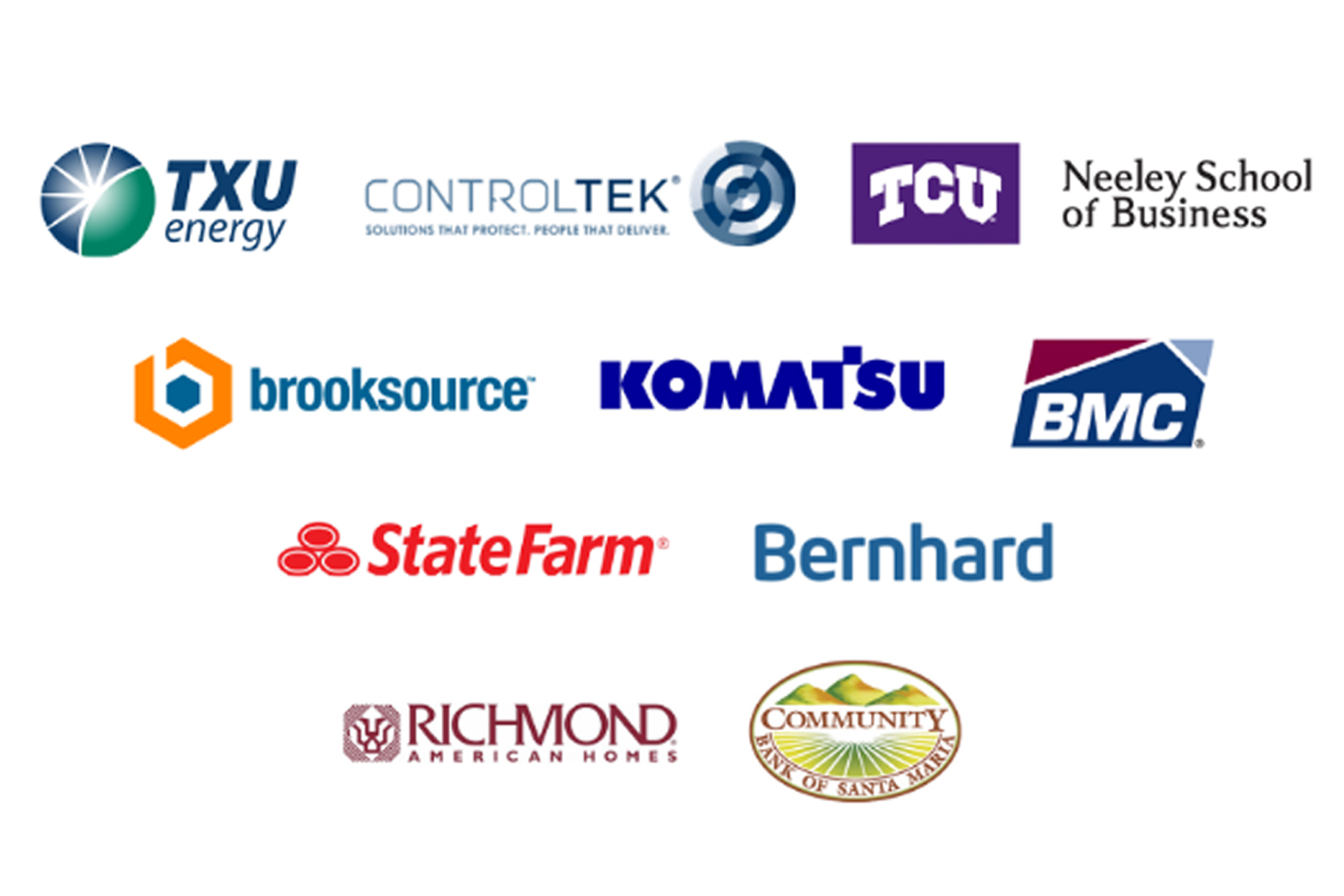 Our Rigorous Recruiting Process Gets You The Top Sales Talent You Need
If you could consistently hire the top sales talent, would you still be satisfied with average-producing salespeople? How much longer are you going to be satisfied with average salespeople that aren't driving the profits that you know your business can produce? Are you going to continue to use the same hiring process, even though it doesn't really get you what you want?
Every salesperson or sales manager you hire through FPG will automatically be enrolled in FPG's award-winning sales training programs: Warrior Selling® for frontline sales professionals and the Leadership Forum® for sales managers. FPG's leadership and sales programs were named two of the top 7 sales training programs in the world by Global Gurus.